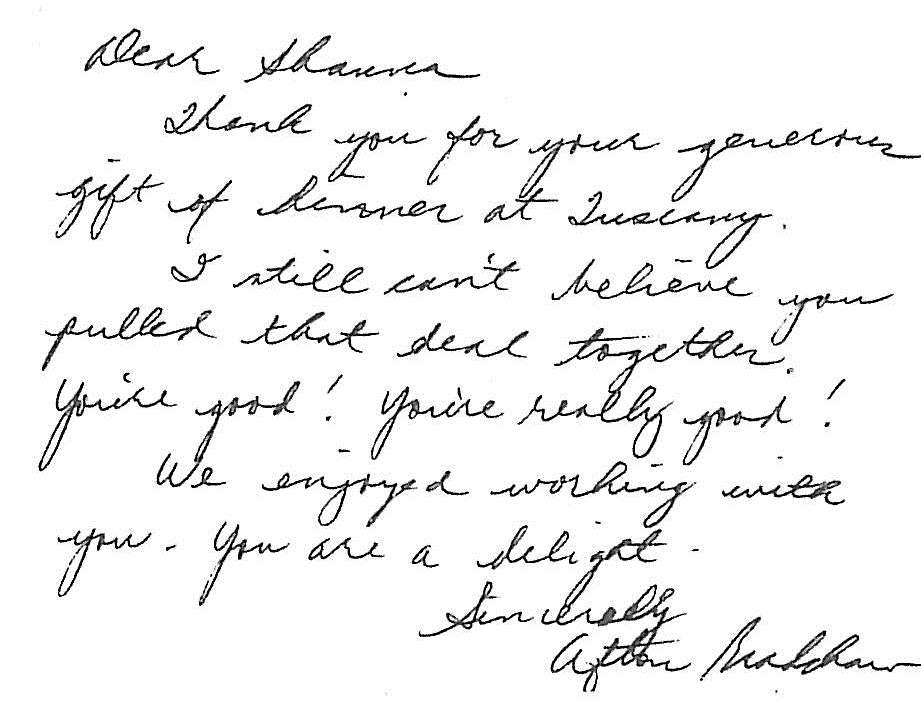 You are a Delight!
Dear Shauna, thank you for your generous gift of dinner at Tuscany. I still can't believe you pulled that deal together. Your good! You're really good! We enjoyed working with you. You are a delight.

Sincerely,
Afton Bradshaw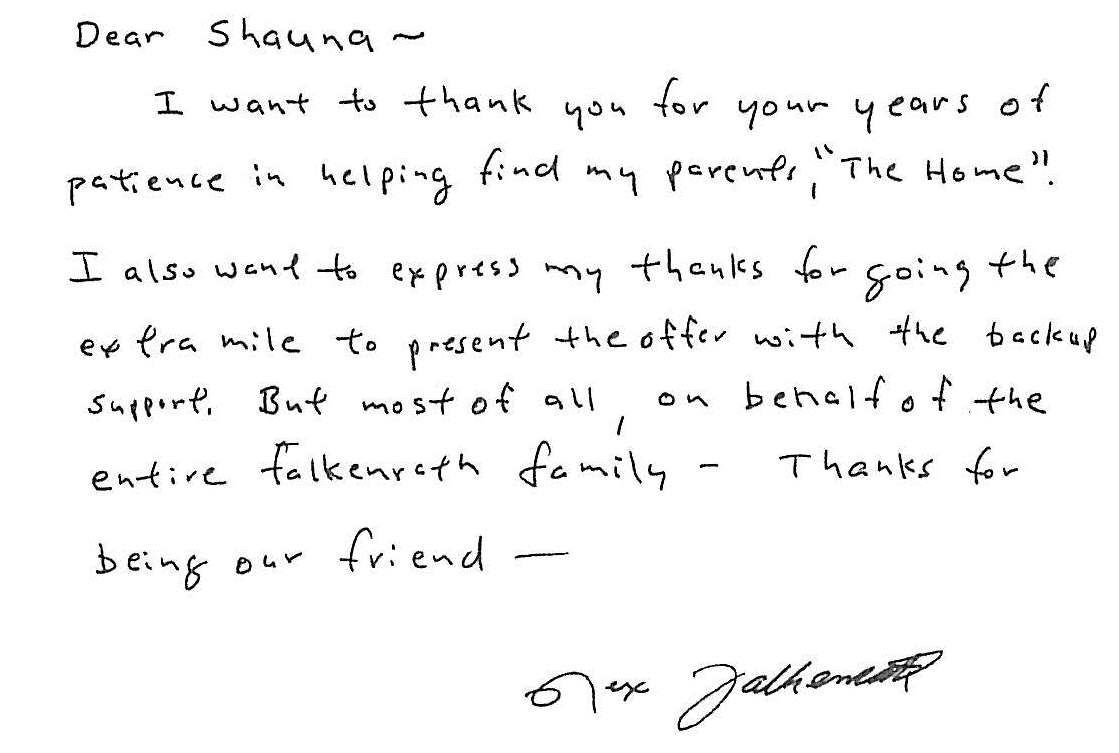 Thanks for Going the Extra Mile!
Dear Shauna ~
I want to thank you for your years of patience in helping find my parents, "The Home." I also want to express my thanks for going the extra mile to present the offer with the back-up support. But most of all, on behalf of the entire Falkenrath family - Thanks for being our friend - Rex Falkenrath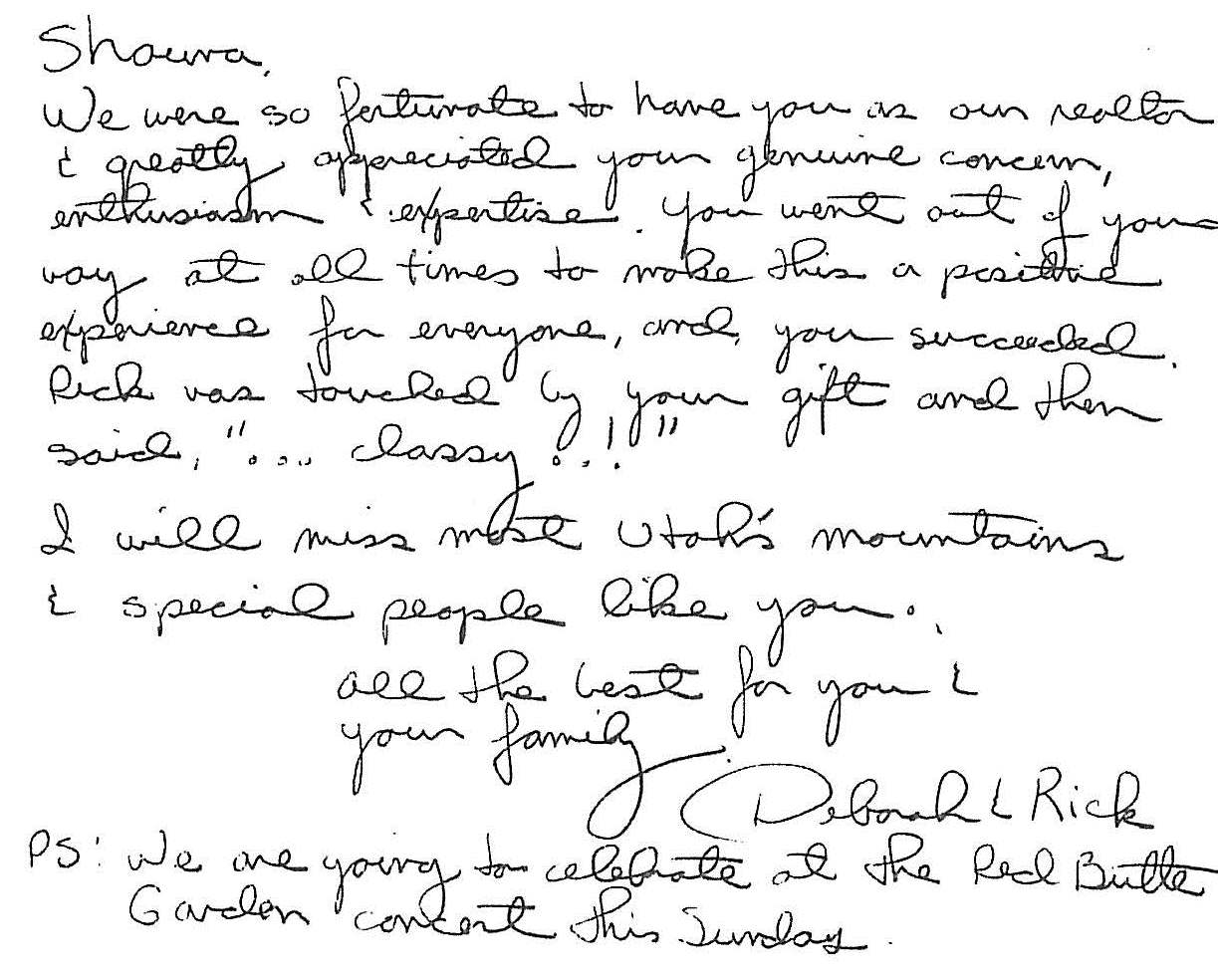 We were so Fortunate to have You!
Shauna, we were so fortunate to have you as our realtor and greatly appreciated your genuine concern, enthusiasm and expertise. You went out of your way at all times to make this a positive experience for everyone, and , you succeeded. Rick was touched by your gift and then said, "...classy..." I will miss most Utah's mountains and special people like you.
All the best for you & your family, Deborah & Rick

P.S. We are to celebrate at the Red Butte Garden concert this Sunday.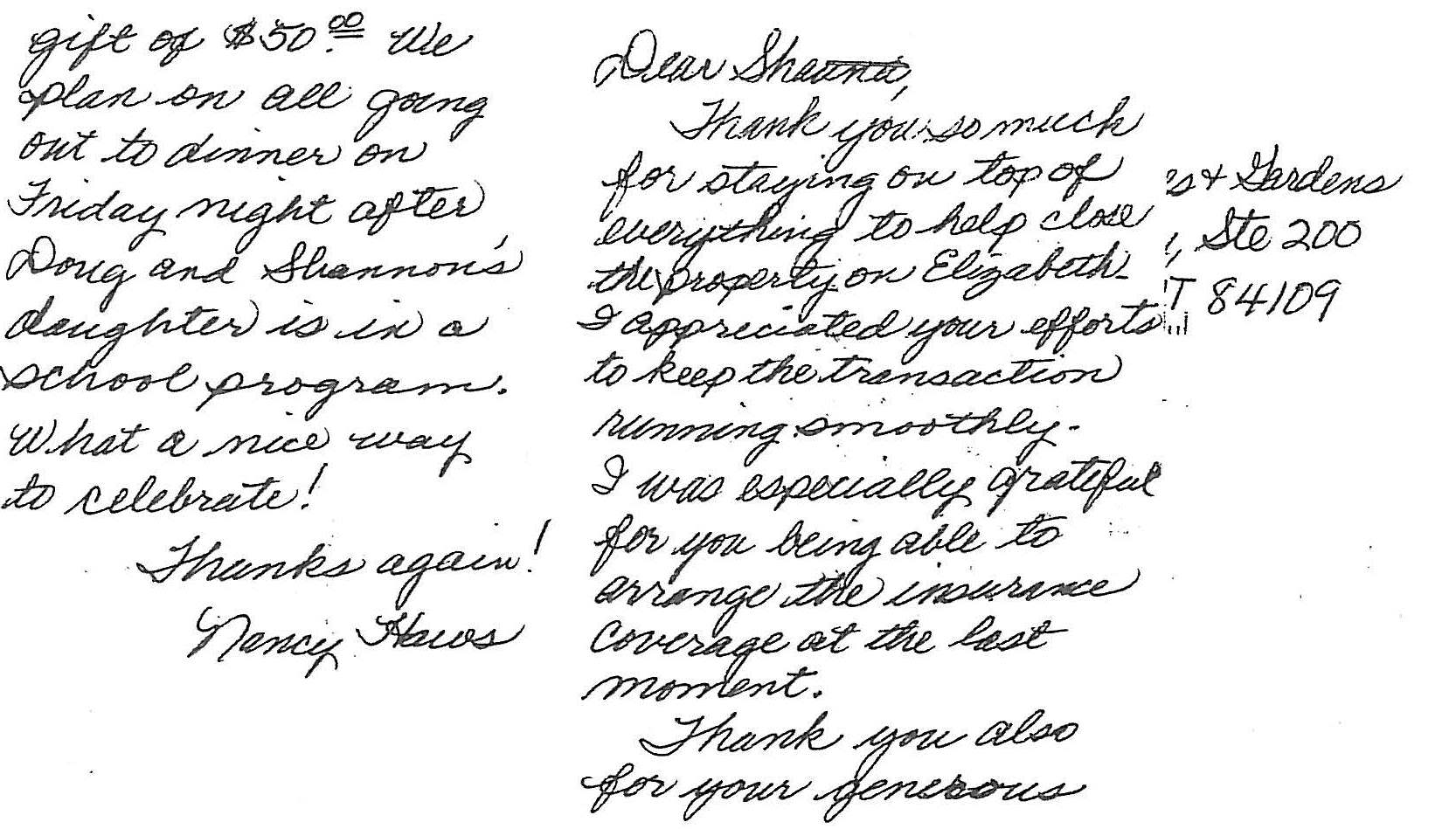 Thank you...for Staying on Top of Everything!
Thank you so much for staying on top of everything to help close the property on Elizabeth. I appreciated your efforts to keep the transaction running smoothly. I was especially grateful for you being able to arrange the insurance coverage at the last moment. Thank you also for your generous gift of $50.00. We plan on all going out to dinner on Friday night after Doug and Shannon's daughter is in a school program. What a nice way to celebrate! Thanks again!

Nancy Haws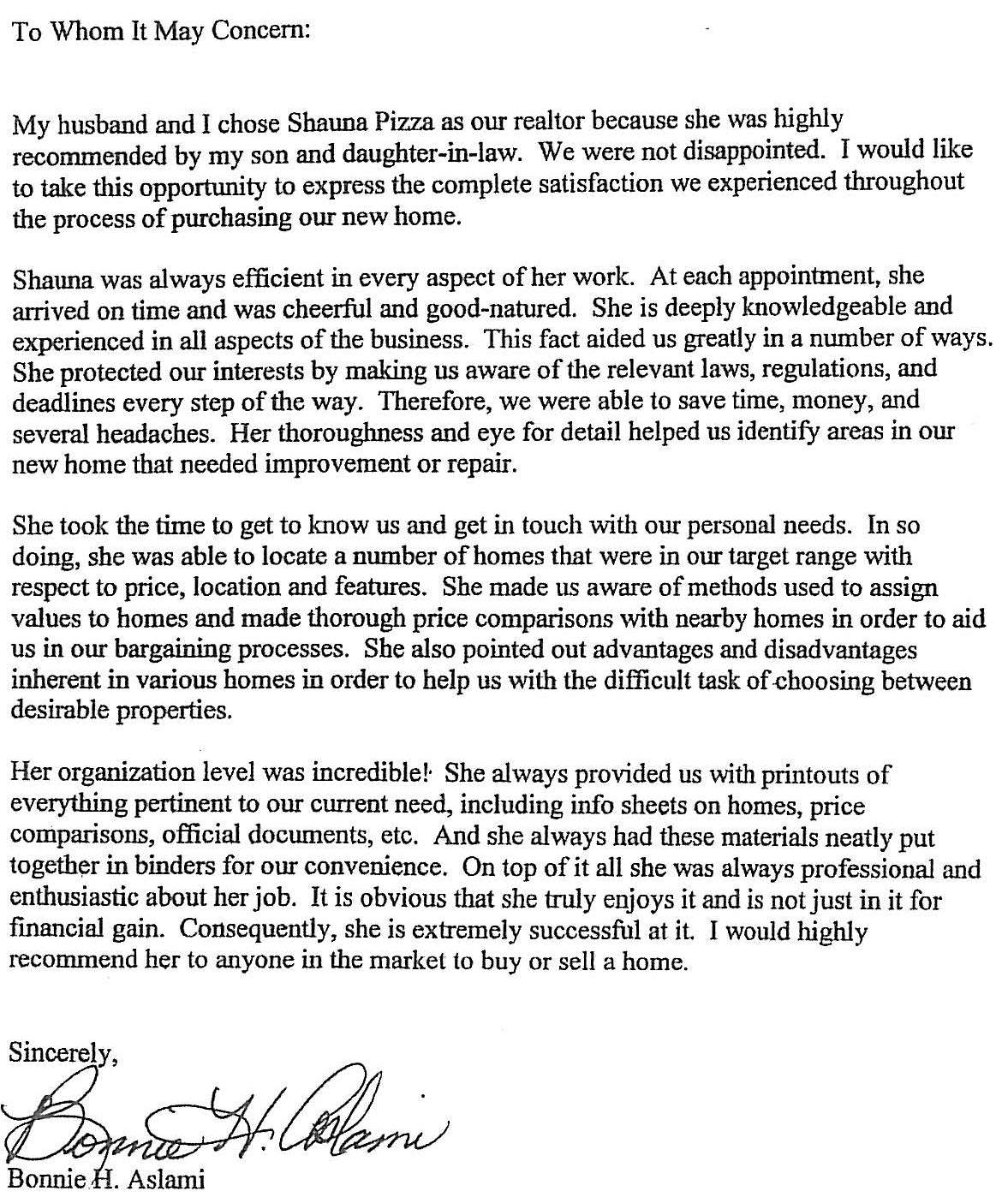 She was Highly Recommended!
To whom it may concern: My husband and I chose Shauna Pizza as our realtor because she was highly recommended by my son and daughter-in-law. We were not disappointed. I would like to take this opportunity to express the complete satisfaction we experienced throughout the process of purchasing our new home.

Shauna was always efficient in every aspect of her work. At each appointment, she arrived on time and was cheerful and good-natured. She is deeply knowledgeable and experienced in all aspects of the business. This fact aided us greatly in a number of ways. She protected our interests by making us aware of the relevant laws, regulations, and deadlines every step of the way. Therefore, we were able to save time, money, and several headaches. Her thoroughness and eye for detail helped us identify areas in our new home that needed improvement or repair.

She took the time to get to know us and get in touch with our personal needs. In so doing, she was able to locate a number of homes that were in our target range with respect to price, location and features. She made us aware of methods used to assign values to homes and make thorough price comparisons with nearby homes in order to aid us in our bargaining processes. She also pointed out advantages and disadvantages inherent in various homes in order to help us with the difficult task of choosing between desirable properties.

Her organization level was incredible! She always provided us with printouts of everything pertinent to our current need, including info sheets on homes, price comparisons, official documents, etc. And she always had these materials neatly put together in binders for our convenience. On top of it all she was always professional and enthusiastic about her job. It is obvious that she truly enjoys it and is not just in it for financial gain. Consequently, she is extremely successful at it. I would highly recommend her to anyone in the market to buy or sell a home.

Sincerely,
Bonnie H. Aslami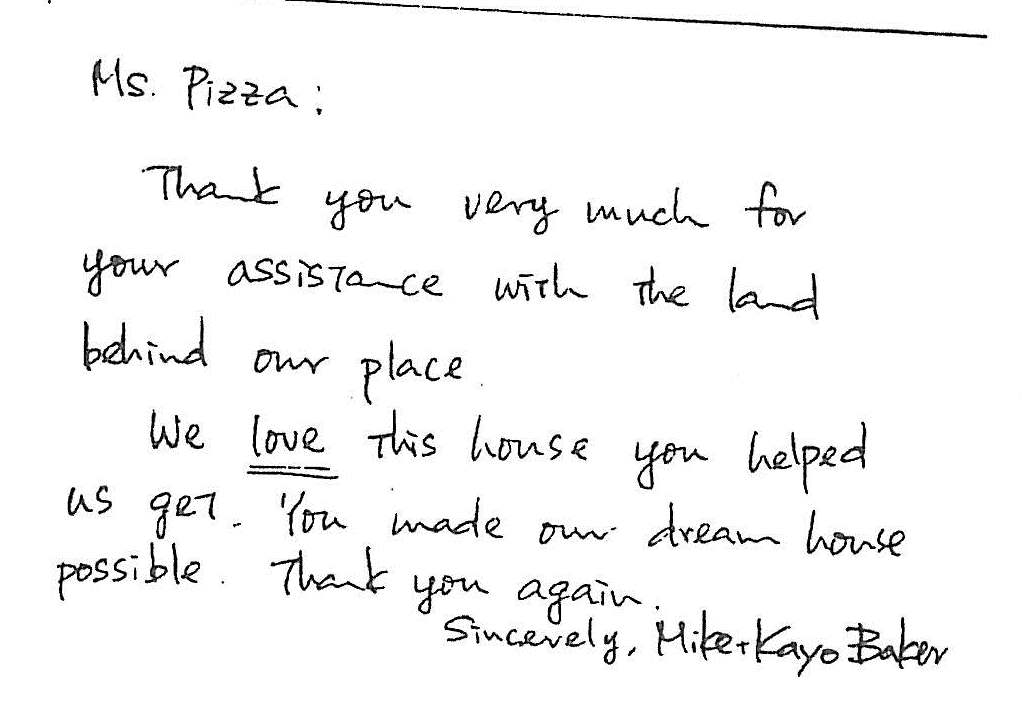 We Love this House
Ms. Pizza: Thank you very much for your assistance with the land behind our place. We love this house you helped us get. You made our dream house possible.
Thank you again.

Sincerely, Mike & Kayo Baker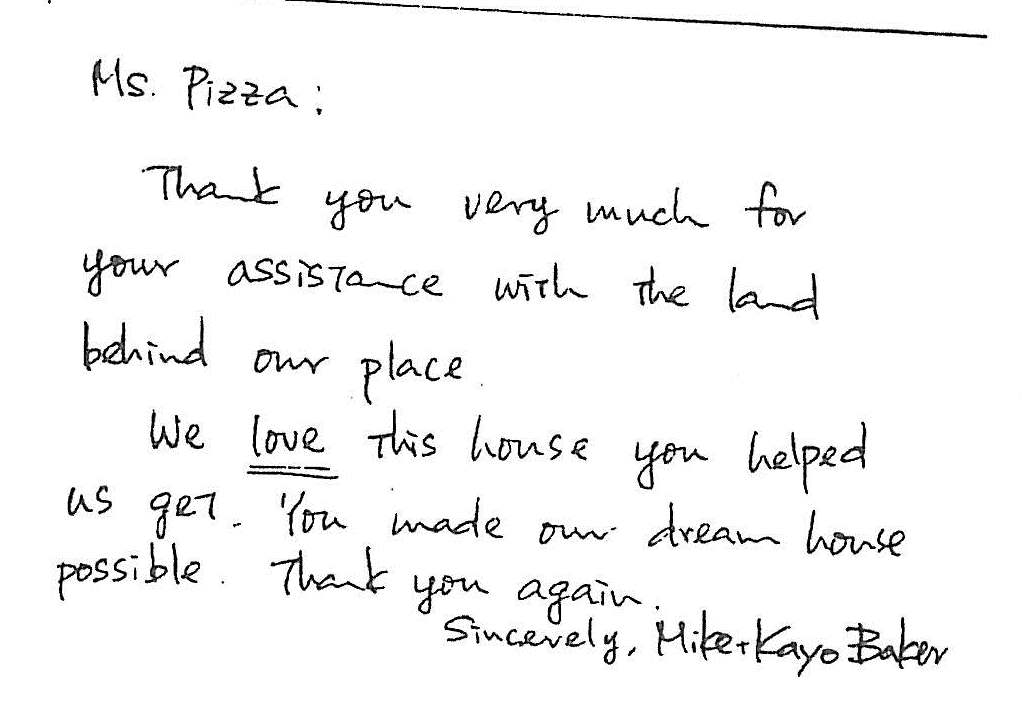 Thank You So Much for EVERYTHING!
Dear Shauna, thank you so much for EVERYTHING! I must say , you are the first realtor I've ever worked with who has just made it such a pleasure in buying a new home. We both are so appreciative of all your hard work, and especially all the little extras that made selling Lilly's home virtually hassle-free. We will definitely share your name with all of our friends! Thanks again for all of your hard work.

With love,
Steve & Lilly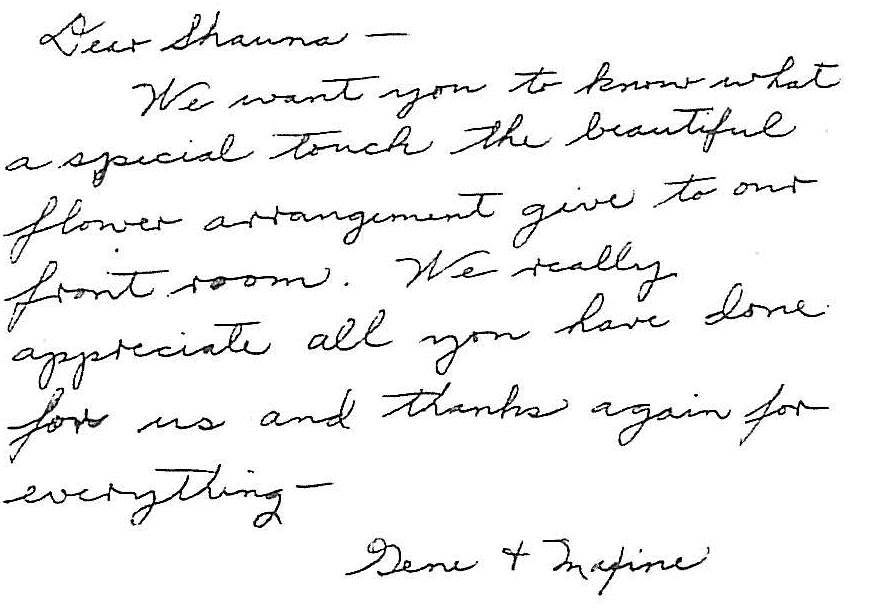 We Appreciate All You Have Done
Dear Shauna- We want you to know what a special touch the beautiful flower arrangement gave to our front room. We really appreciate all you have done for us and thanks again for everything -

Gene & Maxine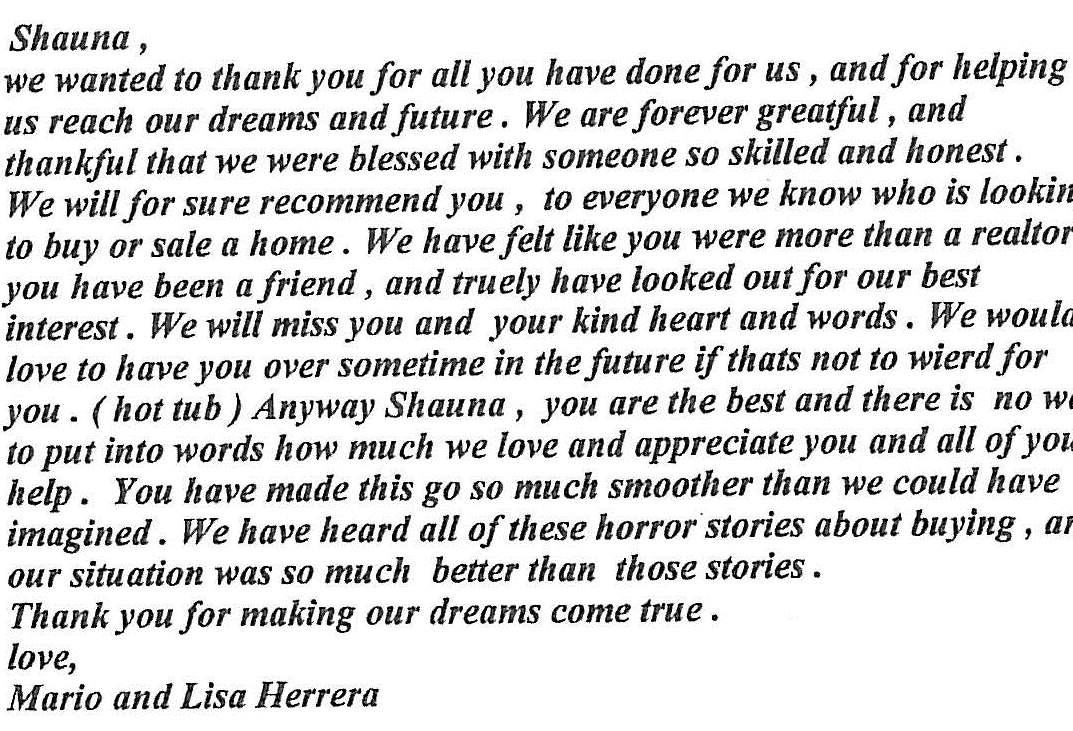 We are Forever Greatful...
Shauna, we wanted to thank you for all you have done for us, and for helping us reach our dreams and future. We are forever grateful, and thankful that we were blessed with someone so skilled and honest. We will for sure recommend you to everyone we know who is looking to buy or sell a home. We have felt like you were more than a realtor you have been a friend, and truly have looked out for our best interest. We will miss you and your kind heart and works. We would love to have you over sometime in the future if that is not to weird for you. (hot tub) Anyway Shauna, you are the best and there is no way to put into words how much we love and appreciate you and all or your help. You have made this go so much smoother than we could have imagined. We have heard all of those horror stories about buying, and our situation was so much better than those stories.

Thank you for making our dreams come true.

Love, Mario & Lisa Herrera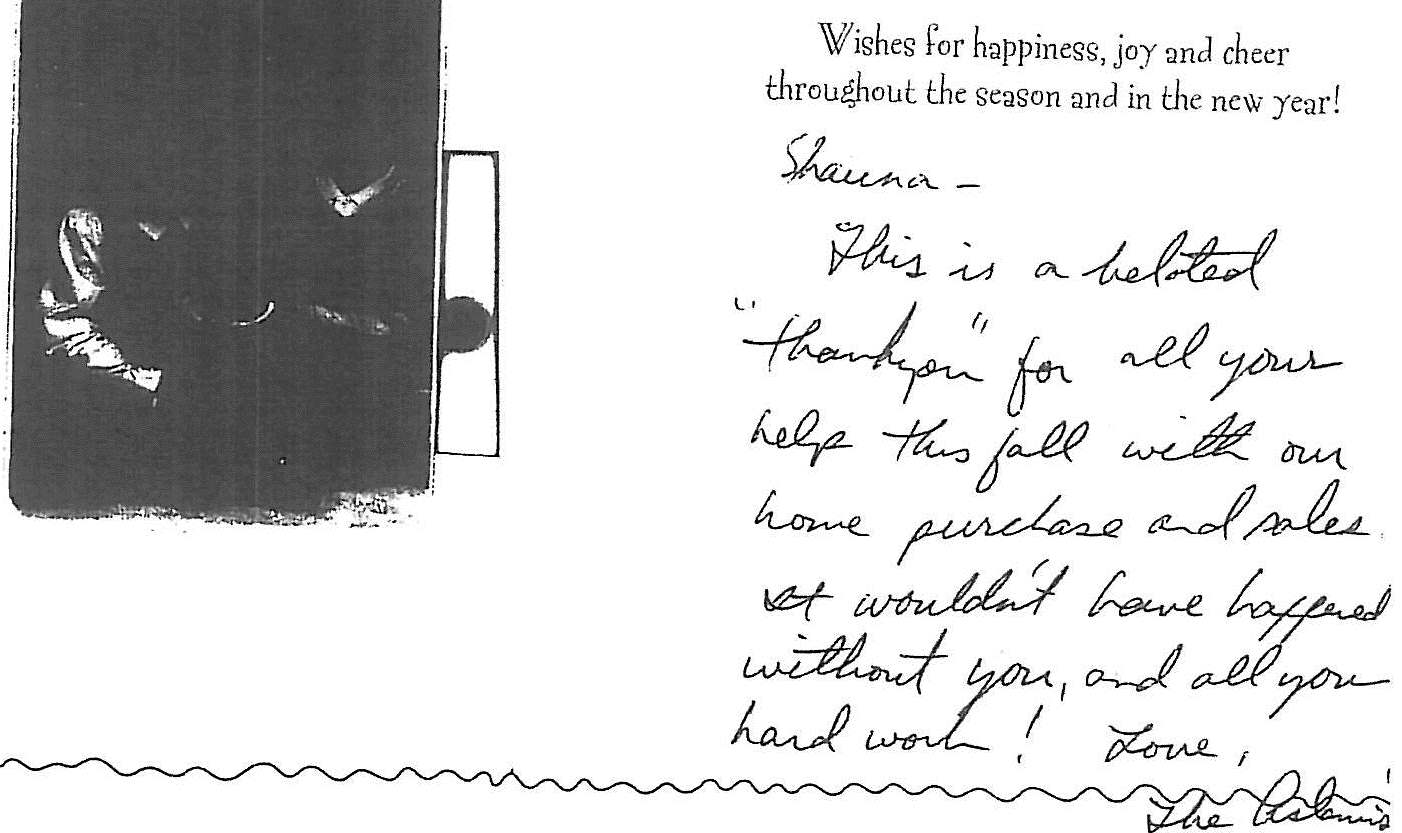 It Wouldn't Have Happened Without You!
Shauna - this is a belated "thank you" for all your help this fall with our home purchase and sales. It wouldn't have happened without you, and all your hard work!

Love,
The Aslami's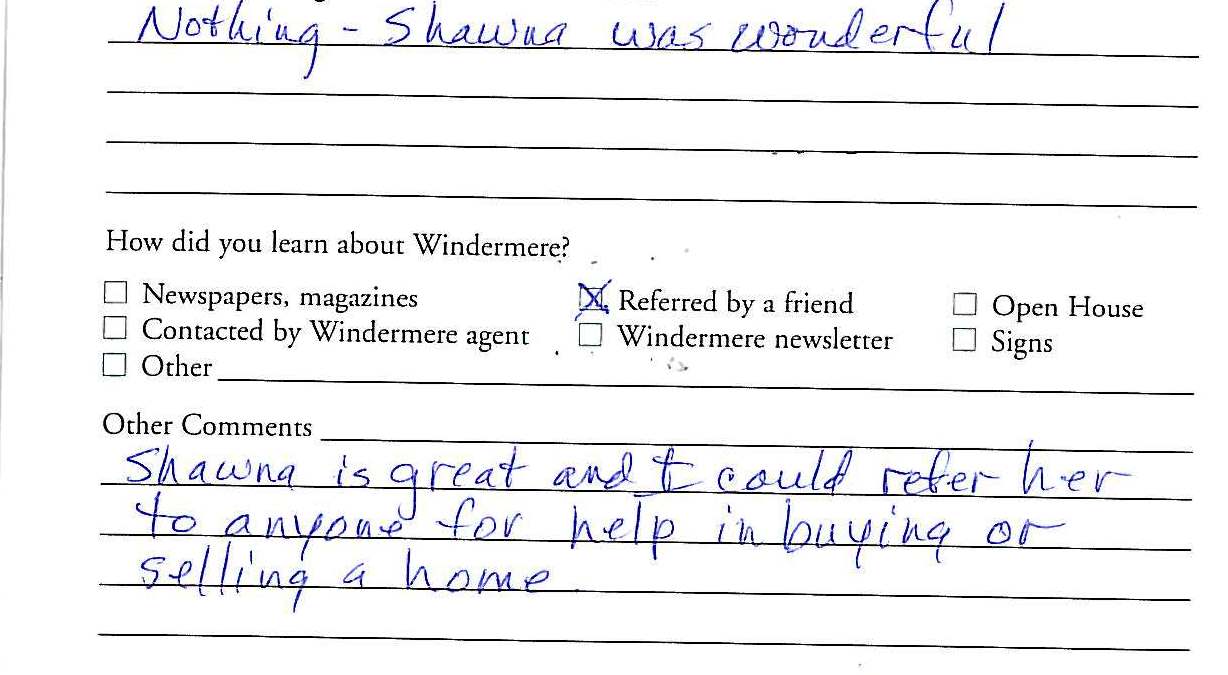 Shauna was Wonderful!
Shauna is great and I could refer her to anyone for help in buying or selling a home.

I Needed a Bulldog
I told Shauna I needed a "bulldog" to get house sold asap & she did excellent. Will refer her to others! Thanks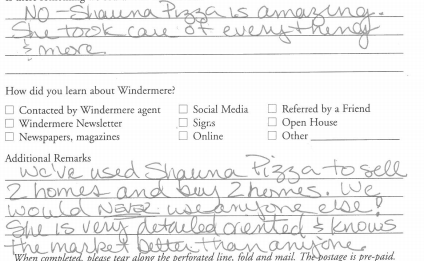 She took care of everything & more.
Shauna Pizza is amazing. She took care of everything & more. We've used Shauna Pizza to sell 2 homes and buy 2 homes. We would NEVER use anyone else! She is very detail oriented & knows the market better than anyone.